General Electric Theater ratings (TV show, 1953-1962)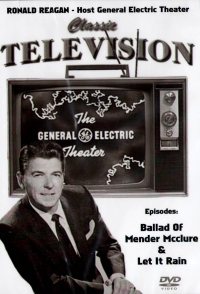 Rank
7,257

/ 22,911

Trend
1
Genres
Comedy, Drama
Seasons
10
Episodes
62
Total votes
2,013
Average votes
32
Average rating
7.5

/ 10
An American anthology series, with a new episode and different actors and actresses each week. Hosted by Ronald Reagan, the series was sponsored by General Electric's Department of Public Relations.
Directors: Alfred E. Green, Andrew McCullough, Arthur Ripley, Axel Gruenberg, Boris Sagal, Bretaigne Windust, Bud Yorkin, Charles F. Haas, Cornel Wilde, Danny Arnold, David Butler, David Greene, David Swift, Don Medford, Don Weis, Earl Bellamy, Felix E. Feist, Frank Tashlin, Frank Tuttle, Frank Wisbar, Frederick Stephani, George Beck, Gower Champion, Harry Keller, Herschel Daugherty, Ida Lupino, Jack Smight, Jacques Tourneur, James Neilson, James Stewart, James V. Kern, Jean Yarbrough, Jerry Hopper, John Brahm, John English, John Newland, John Rich, Jules Bricken, Justus Addiss, Leslie H. Martinson, Maxwell Shane, Mitchell Leisen, Nicholas Ray, Ozzie Nelson, Paul Henreid, Perry Lafferty, Ralph Nelson, Ray Milland, Richard Irving, Richard Quine, Robert B. Sinclair, Robert Florey, Robert Stevens, Robert Stevenson, Rod Amateau, Roy Kellino, Rudolph Maté, Sheldon Leonard, Sherman Marks, Sidney Lanfield, Sidney Salkow, Ted Post, Tim Whelan, Virgil W. Vogel, William A. Attaway, William Asher
Writers: A.A. Milne, Aben Kandel, Adela Rogers St. Johns, Agatha Christie, Al Hine, Albert Lamorisse, Alec Coppel, Alfred Lewis Levitt, Algernon Blackwood, Alphonse Daudet, Alvin Boretz, Alvin Sargent, Andrew Solt, Arline Anderson, Arnold Peyser, Arnold Schulman, Arthur A. Ross, Arthur Alsberg, Arthur Arent, Arthur Gordon, Arthur Kober, Arthur Marx, Arthur Ripley, B. Traven, Barré Lyndon, Barry Crane, Bernard C. Schoenfeld, Blanche Hanalis, Bob Mosher, Borden Chase, Bret Harte, Bryan MacMahon, Budd Schulberg, Calvin Clements Sr., Carey Wilber, Catherine Turney, Charles Dickens, Charles Hoffman, Charles Larson, Charles R. Jackson, Charles Stewart, Charlotte Armstrong, Collier Young, Cornell Woolrich, Crockett Johnson, Cyril Hume, Dale Eunson, Dallas Gaultois, Dana Burnet, Danny Arnold, David Boehm, David Karp, David R. Schwartz, David Shaw, David Swift, David Victor, Don Mankiewicz, Dore Schary, Doris Gilbert, Dorothy M. Johnson, Douglas Heyes, Dwight Cummins, Dwight Cummins, E.P. Conkle, Edith Wharton, Edmund L. Hartmann, Edna Anhalt, Elihu Winer, Emily Kimbrough, Emmet Lavery, Emmett Kelly, Ernest Haycox, Ernest Pascal, Ernst Jacobi, Eugene Vale, Evan Hunter, Evelyn Waugh, Everett Freeman, Francis M. Cockrell, Francis Martin, Frank Burt, Frank Davis, Frank Gabrielson, Frank Gruber, Frank L. Moss, Frank O'Connor, Frank Tashlin, Fred F. Finklehoffe, Fred W. Friendly, Frederick Brady, Frederick Hazlitt Brennan, Fredric Brown, Gabrielle Upton, Gavin Lambert, Gene L. Coon, George Beck, George Bellak, George Bernard Shaw, George Bruce, George Kelly, George Lowther, George Tibbles, Gerald Drayson Adams, Gore Vidal, Guy de Maupassant, Hagar Wilde, Hal Hackady, Halsey Melone, Hans Christian Andersen, Harold J. Kennedy, Harold Swanton, Harry Tugend, Harvey Orkin, Helen Eustis, Henrik Ibsen, Henry Kane, Henry van Dyke, Herbert Purdom, Howard J. Green, Howard Leeds, Howard Snyder, Hugh Wedlock Jr., Hugo Butler, Ira Levin, Irving Shulman, Irving Stone, James B. Allardice, James Costigan, James Dobson, James Edmiston, James P. Cavanagh, James Street, James Thurber, James V. Kern, James Warner Bellah, Jameson Brewer, Jerome Ross, Jerome Weidman, Jerry Davis, Jerry Sohl, Jessamyn West, Joe Connelly, John Cheever, John Collier, John Dunkel, John Ehle, John Furia, John Gay, John Hawkins, John Klempner, John Kneubuhl, John L. Greene, John McGreevey, John O'Dea, John Paxton, John Rich, John T. Chapman, John W. Cunningham, John Whiting, Joseph Hoffman, Joseph Hoffman, Joseph Stefano, Katharine Brush, Katherine Albert, Kathleen Hite, Kay Boyle, Ken Kolb, Kurt Vonnegut Jr., Larry Gelbart, Laurence Marks, Lawrence B. Marcus, Leon Gordon, Lewis B. Patten, Lois Peyser, Louella MacFarlane, Louis Clyde Stoumen, Louis Pelletier, Lula Vollmer, Mae Livingston, Manuel Komroff, Marc Lachmann, Margaret Cousins, Marghanita Laski, Marian B. Cockrell, Mark Sandrich Jr., Maurice Valency, Max Ehrlich, Max Wilk, Mayo Simon, Mel Dinelli, Mel Goldberg, Melville Davisson Post, Merle Miller, Merwin Gerard, Mildred Cram, Milton Pascal, Mortimer Braus, Morton Wishengrad, N. Richard Nash, N.B. Stone Jr., Nathaniel Curtis, Nathaniel Hawthorne, Nicholas Monsarrat, Norman Daniels, Norman Daniels, Norman Katkov, O. Henry, Octavus Roy Cohen, Oscar Brodney, P.G. Wodehouse, Paul Bowles, Paul Horgan, Paul Monash, Paul Vincent Carroll, Paul W. Fairman, Percy MacKaye, Philip Freund, Philip MacDonald, Richard Collins, Richard Connell, Robert Carson, Robert Dozier, Robert Howard Lindsay, Robert J. Crean, Robert J. Hogan, Robert Lowry, Robert Riley Crutcher, Rod Amateau, Rod Serling, Roger O. Hirson, Roland Kibbee, Rose Simon Kohn, Russell S. Hughes, S.J. Perelman, Samuel A. Taylor, Samuel Grafton, Sheldon Leonard, Sherman Marks, Sherwood Anderson, Shimon Wincelberg, Sholom Asch, Sidney Carroll, Sidney Michaels, Sidney Salkow, Sinclair Lewis, Stephen Crane, Stephen Vincent Benet, Steve Fisher, Steve McNeil, Stirling Silliphant, Tad Mosel, Theodore Apstein, Thomas Hardy, Thomas Nord Riley, Thomas Thompson, Valentine Davies, Vern J. Sneider, Victor Canning, Victoria Lincoln, Virginia Claiborne Orr, W.W. Jacobs, Ward Hawkins, Wells Root, William Bowers, William Bruckner, William Clotworthy, William Douglas Lansford, William Douglas Lansford, William Faulkner, William Fay, William R. Cox, William Saroyan, Woody Allen
Hint: you can examine a particular season more clearly on the graphs if you disable the trendline and all other seasons (via clicking on their labels).
Episodes average rating
Note: season labels indicates the average rating per episode between the parentheses.
Episodes total votes
Note: season labels indicates the average votes per episode between the parentheses.
History (tracking since March 7, 2020)
Note: amount of total votes may decrease due to periodic removal of fraudulent ones.
Related TV shows