Lux Video Theatre ratings (TV show, 1950-1959)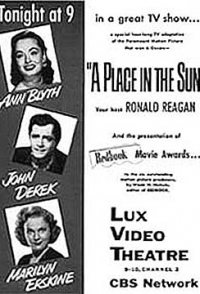 Rank
19,665

/ 26,995

Trend
1
Genres
Comedy, Drama
Seasons
5
Episodes
8
Total votes
81
Average votes
10
Average rating
7.0

/ 10
Live dramatic shows featuring Hollywood stars. Initially, the show was a thirty-minute weekly show, but when it moved to NBC in August 1954, the show was extended to sixty minutes, and the plays were primarily adaptations of motion pictures, and a host was added. The host would introduce each act, and would conduct an interview with the stars at the end of the play.
Directors: Buzz Kulik, Charles F. Haas, David Orrick McDearmon, Earl Eby, Fielder Cook, George Roy Hill, Harold Loeb, James P. Yarbrough, Michael Dreyfuss, Nate Watt, Norman Foster, Peter Godfrey, Richard Dunlap, Richard Goode, William Keighley
Writers: A.A. Milne, A.E. Coppard, Abby Mann, Abem Finkel, Adele Comandini, Agatha Christie, Agnes Christine Johnston, Al C. Ward, Alan Campbell, Alma Reville, Alvin M. Josephy, Andrew Duggan, Andrew L. Stone, Andrew Solt, Ann Loring, Anne Froelich, Anne Howard Bailey, Anthony Berkeley, Anthony Gilbert, Arthur Richman, Arthur Sheekman, Arthur T. Horman, Arthur Wing Pinero, Aubrey Wisberg, Augusta Tucker, Augustus Goetz, Augustus Thomas, Ayn Rand, Barney Slater, Bellamy Partridge, Ben Ames Williams, Benjamin Glazer, Bernard Drew, Bertram Bloch, Bertram Millhauser, Betty Ulius, Billy Wilder, Bruce Manning, Carey Wilber, Carroll Carroll, Casey Robinson, Catherine Turney, Charles Bennett, Charles Bonner, Charles Brackett, Charles Kaufman, Charles R. Marion, Charlotte Hastings, Chester Erskine, Christopher Massie, Clare Kummer, Clarke Reynolds, Clements Ripley, Cornell Woolrich, Cyril Hume, D.M. Marshman Jr., Dale Eunson, Daniel Fuchs, Daphne Du Maurier, David Goodis, David Shaw, Delmer Daves, Dennis O'Keefe, DeWitt Bodeen, DeWitt Copp, Dick Irving Hyland, Don Mankiewicz, Don Martin, Don Tracy, Donald Henderson Clarke, Dorothy Davenport, Dwight V. Babcock, Earl Booth, Ed James, Edward Huebsch, Edward Percy, Edwin Blum, Eleanor H. Porter, Elihu Winer, Elizabeth Meehan, Ellis Marcus, Elwood Ullman, Eric Hatch, Erna Lazarus, Ernest Hemingway, Ernest Lehman, Ernst Lothar, Eugene O'Neill, Eve Greene, Everett Freeman, F. Scott Fitzgerald, F. Tennyson Jesse, Felix Jackson, Florence Ryerson, Francis Bethencourt, Frank Butler, Frank D. Gilroy, Frank Fenton, Frank Mitchell Dazey, Frank Partos, Frank Ryan, Frank Waldman, Fred Niblo Jr., Frederick Lewis Allen, Frederick Stephani, Fritz Rotter, George Beck, George Bellak, George Emerson Brewer Jr., George Kelly, George Lowther, George Moskov, George O'Neil, George Seaton, Geza Herczeg, Gladys Lehman, Gordon McDonell, Graeme Lorimer, Grant Garett, Halsted Welles, Hamilton Benz, Hanns Kräly, Hans Jacoby, Harry Brown, Harry Kronman, Harry Kurnitz, Harry Miles Muheim, Harry W. Junkin, Hartzell Spence, Hector Chevigny, Heinz Herald, Henry Denker, Henry F. Greenberg, Henry James, Henry Martyn Blossom, Herbert Clyde Lewis, Herbert Fields, Herman J. Mankiewicz, Holworthy Hall, Horace Jackson, Howard Emmett Rogers, Howard Koch, Hugo Butler, Irwin Blacker, Isobel Lennart, J.M. Barrie, Jack Gordun, Jack Leonard, Jack Roche, Jack Wagner, Jacques Théry, James B. Allardice, James B. Fagan, James Gunn, James Hagan, James M. Cain, James Ronald, James Truex, Jay Dratler, Jean Holloway, Jerome Brondfield, Jerome Odlum, Jessamyn West, Jo Pagano, Joan Alison, Joan Harrison, Joel Malone, John D. Hess, John D. Weaver, John Gay, John Hersey, John Huston, John McGreevey, John Robert Lloyd, John Steinbeck, John Taintor Foote, John Van Druten, John Whedon, Joseph Cochran, Joseph Hayes, Joseph Hoffman, Joseph Hoffman, Joseph Jackson, Joseph Liss, Joseph Shearing, Josephine Lawrence, Jules Eckert Goodman, Jules Furthman, Julien Josephson, Julius J. Epstein, Kalman Phillips, Karl Kamb, Karl Tunberg, Katherine Albert, Kay Linaker, Kenneth S. Goodman, Ketti Frings, Konrad Bercovici, Ladislas Fodor, László Vadnay, Laurence Heath, Lawrence DuPont, Lawrence G. Blochman, Lawrence Kimble, Lawrence Roman, Lennox Robinson, Lenore J. Coffee, Leo Lieberman, Leo McCarey, Leo Townsend, Leonard Lee, Leonard Merrick, Leonard Praskins, Leonard Spigelgass, Leonard Wibberley, Leslie Bush-Fekete, Leslie T. White, Leslie Waller, Lewis Meltzer, Liam O'Brien, Lionel Houser, Lord Dunsany, Loring Mandel, Louis Pelletier, Louis Weitzenkorn, Mac Shoub, MacKinlay Kantor, Malvin Wald, Manya Starr, Margaret Echard, Margery Allingham, Marghanita Laski, Marie Belloc Lowndes, Martha Cheavens, Martin Berkeley, Martin Flavin, Mary Orr, Maude T. Howell, Maurice Hill, Max Brand, Max Ehrlich, Maxwell Anderson, Meade Roberts, Merle Miller, Michael Blankfort, Michael Dyne, Michael Morris, Michael Wilson, Mona Williams, Monte Collins, Morrie Ryskind, Mortimer Braus, Muriel Roy Bolton, Murray Burnett, Myles Connolly, N. Richard Nash, Nelson Bond, Norman Foster, Norman Krasna, Norman Reilly Raine, Olive Higgins Prouty, Oliver Crawford, Oscar Brodney, Oscar Saul, Owen Davis, Patricia Joudry, Patrick Kearney, Paul Franklin, Paul Osborn, Paul Slocumb, Paul Vincent Carroll, Percival Wilde, Peter Viertel, Philip G. Epstein, Philip Yordan, Polan Banks, Preston Sturges, R.C. Sherriff, Ranald MacDougall, Raphael Hayes, Raymond Chandler, Reginald Denham, Reuben Bercovitch, Richard Connell, Richard Flournoy, Richard Goode, Richard P. McDonagh, Rita Weiman, Roald Dahl, Robert Blees, Robert Carson, Robert Cenadella, Robert E. Sherwood, Robert Hichens, Robert Lord, Robert Louis Stevenson, Robert Middlemass, Robert Pirosh, Robert Presnell Jr., Robert Presnell Sr., Robert Riskin, Robert Thoeren, Robert Wilder, Rod Serling, Roger Garis, Roland Winters, Ronald Alexander, Ronald Elwy Mitchell, Ronald Millar, Roswell Rogers, Roy Chanslor, Roy Huggins, Rupert Hughes, Ruth Goetz, Ruth Southard, Ruth Woodman, S. Lee Pogostin, S. Lee Pogostin, S.H. Barnett, Sally Benson, Sam Robins, Samson Raphaelson, Seton I. Miller, Sidney Buchman, Sonya Levien, Stafford Dickens, Stanley H. Silverman, Stanley Paley, Stephen Longstreet, Stephen Vincent Benet, Steve Fisher, Steve McNeil, Sumner Locke Elliott, Sydney Boehm, Terence Rattigan, Thelma Robinson, Theodore Dreiser, Thomas Cullinan, Thornton Wilder, Thyra Samter Winslow, Turner Bullock, Turnley Walker, Vick Knight, Viña Delmar, Vincent Lawrence, Virginia Van Upp, Walter Prichard Eaton, Wendell Mayes, William Bowers, William Faulkner, William Hurlbut, William Kendall Clarke, William Kozlenko, William L. Stuart, William Perlberg, William Sackheim, Wilson Mizner, Winifred Wolfe
Hint: you can examine a particular season more clearly on the graphs if you disable the trendline and all other seasons (via clicking on their labels).
Episodes average rating
Note: season labels indicates the average rating per episode between the parentheses.
Episodes total votes
Note: season labels indicates the average votes per episode between the parentheses.
History (tracking since March 7, 2020)
Note: amount of total votes may decrease due to periodic removal of fraudulent ones.
Related TV shows