Matinee Theatre ratings (TV show, 1955-1958)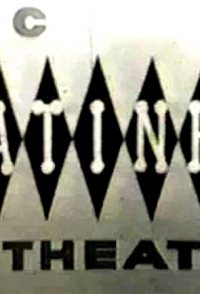 Rank
16,210

/ 27,025

Trend
0
Genres
Drama, Horror, Mystery
Seasons
3
Episodes
8
Total votes
115
Average votes
14
Average rating
6.9

/ 10
A daily anthology show, featuring original material, as well as adaptations of literary classics.
Directors: Alan Cooke, Alan Neuman, Albert McCleery, Allan A. Buckhantz, Arthur Hiller, Boris Sagal, Dennis Patrick, George Cahan, Jim Jordan, John Drew Barrymore, Lamont Johnson, Laurence Schwab Jr., Richard Goode, Robert Ellis Miller, Sherman Marks, Tad Danielewski, Walter Grauman
Writers: A.A. Milne, A.B. Shiffrin, A.J. Russell, Abby Mann, Adrian Spies, Alan Cooke, Albert McCleery, Alberto Casella, Aldous Huxley, Alec Coppel, Alexander Pushkin, Alfred Brenner, Alfred Ryder, Alice Duer Miller, Alvin Boretz, Alvin Sapinsley, Andrew Rosenthal, Anita Leslie, Anna Steese Richardson, Anthony Boucher, Anthony Spinner, Armina Marshall, Arnold M. Auerbach, Arnold Schulman, Arthur Arent, Arthur Cavanaugh, Arthur Hailey, Arthur Wing Pinero, Barré Lyndon, Ben Hecht, Benn W. Levy, Bernard C. Schoenfeld, Bernard Schubert, Bernard Slade, Bertram Bloch, Betty Ulius, Biff McGuire, Blanche Hanalis, Bob Barbash, Bob Duncan, Booth Tarkington, Boris Sagal, Bram Stoker, Brenda Weisberg, Bret Harte, Budd Schulberg, Charles Dickens, Charles Lederer, Charles Morgan, Charlotte Armstrong, Charlotte Brontë, Colette, Dale Wasserman, Dan Beaumont, Daphne Du Maurier, David Chandler, David Davidson, David Karp, David Lamson, Dodie Smith, Donald Symington, Donald Windham, Doris Gilbert, Doris Hursley, Dorothy Canfield, Dorothy Kilgallen, E. Jack Neuman, Edgar Allan Poe, Edith Wharton, Edmond Kelso, Edward Everett Hale, Elaine Ryan, Elihu Winer, Elizabeth McFadden, Ellen McCracken, Ellis St. Joseph, Émile Zola, Emily Brontë, Emlyn Williams, Emmet Lavery, Eugene Francis, Eugene Raskin, Eve Greene, Fannie Hurst, Frances Hodgson Burnett, Frances Parkinson Keyes, Francis Swann, Frank Craven, Frank D. Gilroy, Frank De Felitta, Frank Hursley, Frank Price, Franklin Barton, Frederick J. Jackson, Frederick Lonsdale, Gail Ingram, George Baxt, George Bellak, George Bernard Shaw, George Bradshaw, George Bruce, George Eliot, George Emerson Brewer Jr., George Kelly, George Lowther, George Meredith, Gerald Sanford, Gian Carlo Menotti, Glenn P. Wolfe, Gore Vidal, Greer Johnson, Guy de Maupassant, H.G. Wells, H.R. Hays, Hagar Wilde, Hal Hackady, Harlan Ware, Harold Brodkey, Harold Callen, Harold Gast, Harriet Frank Jr., Harry Julian Fink, Harry W. Junkin, Helene Hanff, Henrik Ibsen, Henry James, Henry Misrock, Henry Wadsworth Longfellow, Herman Goldberg, Herman Raucher, Hila Colman, Honoré de Balzac, Howard Berk, Howard Richardson, Howard Rodman, I.A.R. Wylie, Ira Avery, Ira Levin, Irve Tunick, Irving Elman, Irving Gaynor Neiman, Irving Phillips, Irwin Shaw, Isabella Taves, J.B. Priestley, J.M. Barrie, J.P. Miller, Jack Laird, Jack Laird, Jack Lewis, Jack Paritz, Jacob Hay, James Blumgarten, James Elward, James Gould Cozzens, James Thurber, James Truex, James Warner Bellah, Jane Austen, Jay Presson Allen, Jean Kerr, Jerome Kern, Jerome Ross, Jess Gregg, Joe Barry, John Boruff, John Cecil Holm, John H. Secondari, John Hawkins, John P. Marquand, John Steinbeck, John Van Druten, John Vlahos, John W. Bloch, Joseph Liss, Joseph Shearing, Josephine Lawrence, Karel Capek, Kathleen Lindsey, Keith Winter, Larry Williams, Lawrence Hazard, Lawrence Langner, Lennox Robinson, Leonard Freeman, Leonard Kantor, Leonard Stadd, Leopold Atlas, Lesley Storm, Lorenzo Semple Jr., Louis S. Peterson, Louisa May Alcott, Luigi Pirandello, Luther Reed, Lynn Root, Mac Shoub, Marc Brandel, Margaret Cousins, Margaret Culkin Banning, Margaret Kennedy, Mari Sandoz, Marjorie Duhan Adler, Marjorie Kellogg, Mark Twain, Martha Wilkerson, Martin Donovan, Martin Vale, Mary Eunice McCarthy, Mary Shelley, Mathilde Ferro, Matt Taylor, Max Wilk, Mazo de la Roche, Meade Roberts, Melville Burke, Meyer Dolinsky, Michael Dyne, Mordaunt Shairp, Mort Thaw, N. Richard Nash, Nancy Hale, Nathaniel Benchley, Nathaniel Hawthorne, Nedra Tyre, Nelia Gardner White, Nelson Bond, Newt Arnold, Nicholas E. Baehr, Nikolay Gogol, Oscar Schisgall, Oscar Wilde, Pamela Frankau, Patrick Hamilton, Paul Tabori, Paul Vincent Carroll, Paula Fox, Pearl S. Buck, Peggy Phillips, Peter Berneis, Philip Barry, Philip Barry Jr., Philip Freund, Philip S. Goodman, Phyllis Duganne, R.C. Sherriff, Rachel Crothers, Ralph Rose Jr., Reginald Lawrence, Reita Lambert, Richard Harding Davis, Richard Kollmar, Richard Stern, Richard Wendley, Robert Arthur, Robert Carson, Robert Dozier, Robert E. Thompson, Robert Emmett, Robert Howard Lindsay, Robert J. Shaw, Robert Louis Stevenson, Robert Nathan, Robert Pollock, Robert Wallsten, Rod Coneybeare, Rod Serling, Roger Garis, Rosemary Casey, Rosemary Foster, S.N. Behrman, S.S. Schweitzer, Sam Hall, Samson Raphaelson, Samuel W. Taylor, Sheldon Stark, Shelley Smith, Sheppard Kerman, Sinclair Lewis, Sol Saks, Sonya Roberts, Sophie Kerr, Speed Lamkin, Stafford Dickens, Stephen Vincent Benet, Steve Gethers, Sumner Locke Elliott, Susan Glaspell, Sylvia Regan, Tennessee Williams, Theodore Apstein, Theodore Ferro, Therese Lewis, Thomas Job, Thomas Thompson, Thyra Samter Winslow, Vance Bourjaily, Viña Delmar, Virginia Faulkner, Vivian Connell, Walter Ferris, Walter Grauman, Wanda Duncan, Ward Hawkins, Warner Law, Wilhelm Speyer, Will Lorin, William Altman, William Berney, William Dinner, William Kendall Clarke, William Kozlenko, William L. Stuart, William MacLeod Raine, William Mendrek, William Morum, William Mourne, William Shakespeare, William Templeton, Wilton Schiller, Winston Churchill, Zelda Popkin, Zoe Akins
Hint: you can examine a particular season more clearly on the graphs if you disable the trendline and all other seasons (via clicking on their labels).
Episodes average rating
Note: season labels indicates the average rating per episode between the parentheses.
Episodes total votes
Note: season labels indicates the average votes per episode between the parentheses.
History (tracking since March 7, 2020)
Note: amount of total votes may decrease due to periodic removal of fraudulent ones.
Related TV shows