Schlitz Playhouse ratings (TV show, 1951-1959)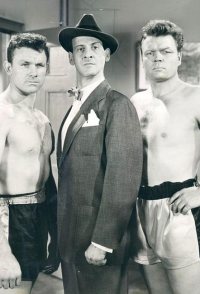 Rank
10,873

/ 22,869

Trend
0
Genres
Comedy, Drama
Seasons
8
Episodes
43
Total votes
705
Average votes
16
Average rating
7.5

/ 10
Originally billed as "Playhouse of the Stars" this long running anthology series was originally presented live from New York City. Irene Dunne was briefly the hostess in 1952, and the show frequently used Broadway performers in classic stories.
Directors: Allen H. Miner, Alvin Ganzer, Anthony Jowitt, Anton Leader, Arnold Laven, Arthur Hiller, Arthur Pierson, Bernard Girard, Bill Karn, Charles Bennett, Christian Nyby, David Butler, Delbert Mann, Don McDougall, Don Medford, Don Weis, Earl Bellamy, Edmond O'Brien, Edward Mann, Frank Telford, Frederick Stephani, George Archainbaud, Gerald Mayer, Harold D. Schuster, Harry Keller, Herbert Kline, Herschel Daugherty, Hollingsworth Morse, Jack Gage, Jacques Tourneur, James Neilson, James Sheldon, James Stewart, John Brahm, Jules Bricken, Justus Addiss, Leigh Jason, Leslie H. Martinson, Lew Landers, Lewis Milestone, Lewis R. Foster, Mark Stevens, Paul Helmick, Paul Henreid, Phil Brown, Ray Milland, Reginald Le Borg, Richard Haydn, Richard Irving, Richard Whorf, Robert Aldrich, Robert Florey, Robert M. Leeds, Robert Stevenson, Rod Amateau, Roy Kellino, Russell Stoneham, Sheldon Leonard, Sidney Lanfield, Sobey Martin, Ted Post, Ted Tetzlaff, William A. Seiter, William Asher, William F. Claxton, William Self
Writers: A.A. Milne, Aben Kandel, Adela Rogers St. Johns, Adrian Gendot, Adrian Spies, Al C. Ward, Aladar Laszlo, Alec Coppel, Allan Vaughan Elston, Allen H. Miner, Allen Rivkin, Alphonse Daudet, Andrew Solt, Ann Edwards, Anton Chekhov, Arnold Belgard, Arnold Schulman, Arthur A. Ross, Arthur Conan Doyle, Arthur Gordon, Arthur Julian, Arthur Schnitzler, Arthur Sheekman, Arthur Stringer, Barney Slater, Barry Perowne, Beirne Lay Jr., Ben Hecht, Bernard C. Schoenfeld, Bob Mitchell, Borden Chase, Carey Wilber, Charles Anghoff, Charles Beaumont, Charles Bennett, Charles Caldwell Dobie, Charles E. van Loan, Charles Larson, Charles Marquis Warren, Charles Smith, Charles W. Chesnutt, Clarke Reynolds, Cornell Woolrich, Curtis Kenyon, Dale Eunson, David Boehm, David P. Harmon, Dean Riesner, DeWitt Bodeen, Don Ettlinger, Don Mankiewicz, Don Martin, Donald S. Sanford, Douglas Morrow, Dwight Cummins, Dwight Cummins, Dwight Taylor, Ed Adamson, Edna Anhalt, Ellis St. Joseph, Elmore Leonard, Eric Scott, Ernest Dudley, Ernest Haycox, Ernest Hemingway, Everett Freeman, Everett Greenbaum, F. Scott Fitzgerald, Fenton Earnshaw, Flannery O'Connor, Francis Swann, Frank Burt, Frank Butler, Frank Gruber, Frank La Tourette, Frank O'Rourke, Frank R. Stockton, Frederic Dannay, Frederick Brady, Gabrielle Upton, Gail Ingram, Gene L. Coon, Gene Levitt, George Bruce, George Fass, Gertrude Fass, Gina Kaus, Gordon McDonell, Hagar Wilde, Hal G. Evarts, Halsey Melone, Halsted Welles, Harold Shumate, Harriet Frank Jr., Harry Middleton, Harry W. Junkin, Hector Chevigny, Henry Slesar, Herbert Kline, Herbert Moulton, Herman C. McNeile, Herman Melville, Howard J. Green, Hugh Fosburgh, Irving Gaynor Neiman, Irving H. Cooper, Jack Guss, Jack London, Jack Roberts, Jacland Marmur, James Atlee Phillips, James E. Moser, James Fritzell, James Ramsey Ullman, James Ronald, James Yaffe, Jameson Brewer, Jean Giraudoux, Jean Holloway, Jerome Gruskin, Jerome Ross, Jerome Weidman, Jerry McGill, Joan Harrison, Joel Murcott, John D. MacDonald, John Dunkel, John Hawkins, John Kneubuhl, John McGreevey, John Patrick, John T. Kelley, John Tucker Battle, John Vlahos, Joseph Conrad, Joseph Hergesheimer, Judson Philips, Katherine Albert, Kathleen Hite, Kenneth Grahame, Kenneth Perkins, Kenyon Nicholson, Larry Williams, László Görög, Laurence Heath, Lawrence B. Marcus, Lawrence L. Goldman, Leon Gordon, Leonard Freeman, Leonard Praskins, Les Crutchfield, Les Savage Jr., Lewis R. Foster, Liam O'Brien, Louis L'Amour, Lowell Barrington, Luther Davis, Mac Shoub, Manfred Lee, Margaret Cousins, Margery Sharp, Marjorie Carleton, Mark Hellinger, Martin Berkeley, Matt Taylor, Maurice Zimm, Michael Shaara, Mildred Cram, Milton S. Gelman, Montgomery Pittman, Muriel Roy Bolton, Murray Leinster, N.B. Stone Jr., Nelia Gardner White, Nelson Algren, Nelson Gidding, Noël Coward, Norman Katkov, Norman Matson, Norman Reilly Raine, Nunnally Johnson, Octavus Roy Cohen, Oliver Crawford, Oscar Brodney, Oscar Millard, Oscar Saul, Otis Carney, Paul Helmick, Paul Monash, Percival Wilde, Philip Ketchum, Philip MacDonald, Ralph Rose Jr., Raymond Chandler, Richard Berg, Richard Carlson, Richard Collins, Richard Connell, Richard De Roy, Richard English, Richard Le Gallienne, Richard Stern, Richard Wormser, Robert Anderson, Robert C. Dennis, Robert Eggenweiler, Robert Howard Lindsay, Robert J. Shaw, Robert Leslie Bellem, Robert Lowry, Robert Presnell Jr., Robert Riley Crutcher, Roy Chanslor, Sam Locke, Selma Lagerlöf, Sholom Asch, Sidney Biddell, Sig Herzig, Sinclair Lewis, Stanley Ellin, Stephen Crane, Steve Fisher, Stuart Cloete, Sydney Box, Theodore Sturgeon, Therese Lewis, Thomas Nord Riley, Thomas Phipps, Thomas Raddall, Thomas Thompson, Thomas Walsh, Tom Seller, Tony Barrett, Vern J. Sneider, Vincent McConnor, W. Somerset Maugham, Wallace Bosco, Ward Hawkins, Wayne D. Overholser, William Bruckner, William Chamberlain, William Dozier, William Fay, William J. Locke, William Kendall Clarke, William N. Robson, William Sansom, William Tunberg, Winifred Wolfe, Zachary Gold, Zane Grey, Zoe Akins
Hint: you can examine a particular season more clearly on the graphs if you disable the trendline and all other seasons (via clicking on their labels).
Episodes average rating
Note: season labels indicates the average rating per episode between the parentheses.
Episodes total votes
Note: season labels indicates the average votes per episode between the parentheses.
History (tracking since March 7, 2020)
Note: amount of total votes may decrease due to periodic removal of fraudulent ones.
Related TV shows