The Magical World of Disney ratings (TV show, 1954-1997)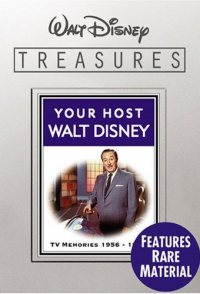 Rank
6,854

/ 26,399

Trend
13
Genres
Drama, Family, Adventure
Seasons
36
Episodes
553
Total votes
25,134
Average votes
45
Average rating
7.7

/ 10
A Disney-produced anthology covering many different genres.
Directors: Al Teeter, Alan Shapiro, Andrew Solt, Andrew V. McLaglen, Art Fisher, Arthur Hiller, Arthur J. Vitarelli, Beau Bridges, Ben Sharpsteen, Bernard McEveety, Bill Justice, Bill Roberts, Blake Edwards, Bob Sweeney, Bruce Bilson, Burny Mattinson, Byron Haskin, Byron Paul, Charles Barton, Charles Jarrott, Charles Nichols, Christian Nyby, Clyde Geronimi, Corey Allen, Danny Huston, David Greenwalt, David Hemmings, David Swift, Debbie Allen, Don Chaffey, Don Haldane, Dwight Hemion, E.W. Swackhamer, Edward M. Abroms, Eric Cleworth, Ferdinand Fairfax, Fletcher Markle, Francis D. Lyon, Frank Zuniga, Fred R. Krug, Gary Nelson, Georg Tressler, George Miller, George Sherman, Gordon Wiles, Greg Antonacci, Greg Beeman, Gunther von Fritsch, Gwen Arner, Hamilton Luske, Hank Schloss, Harold D. Schuster, Harold French, Harold Young, Harry Falk, Harry Keller, Harry Tytle, Herschel Daugherty, Hollingsworth Morse, Jack Couffer, Jack Donohue, Jack Hannah, Jack King, Jack Kinney, Jack Shea, Jack Speirs, Jackie Cooper, James Algar, James Burrows, James Goldstone, James Neilson, James Orr, James Sheldon, James T. Walker, Jeffrey Hayden, Jerome Courtland, Jerry Paris, John Erman, John Hough, John Landis, John Lounsbery, John R. Cherry III, Joseph Sargent, Joshua Meador, Ken Annakin, Kenneth Johnson, Kieth Merrill, Larry Lansburgh, Les Clark, Lewis R. Foster, Louis King, Mark Cullingham, Mark Rosman, Marty Pasetta, Marvin J. Chomsky, Mel Damski, Michael Caffey, Michael O'Herlihy, Michael Vejar, Mick Garris, Mike Jittlov, Nick Bennion, Noel Black, Noel Nosseck, Norman Campbell, Norman Foster, Norman Tokar, Norman Wright, Oz Scott, Peter Godfrey, Peter Tewksbury, Richard L. Bare, Richard Lyford, Robert Butler, Robert Clouse, Robert Cormack, Robert Day, Robert Florey, Robert L. Friend, Robert Scheerer, Robert Stevenson, Robert Totten, Ron Kelly, Ron Miller, Roy Edward Disney, Russ Mayberry, Samuel Armstrong, Seymour Robbie, Sidney Miller, Simon Wincer, Stan Harris, Steve Previn, Steven Hilliard Stern, Stuart Gillard, Tom McGowan, Tony Bill, Vic Morrow, Vincent McEveety, Ward Kimball, Wes Craven, Wilfred Jackson, William Beaudine, William Beaudine Jr., William Fairchild, William Reid, William Witney, Winston Hibler, Wolfgang Reitherman
Writers: A.A. Milne, AJ Carothers, Al Bertino, Al Teeter, Albert Aley, Albert Duffy, Albert E. Lewin, Albert Sidney Fleischman, Alexander Key, Alfred Lewis Levitt, Alois Podhajsky, Andrew Solt, Ann Udell, Arnold Belgard, Arnold Peyser, Arthur Alsberg, Arthur E. Orloff, Arthur Julian, B.W. Sandefur, Barbara Dillon, Barbara Hall, Barney Slater, Bart Burns, Ben Stahl, Benjamin Masselink, Bernie Kahn, Bill Berg, Bill Dial, Bill Peet, Bill Prady, Bill Richmond, Bill Walsh, Blake Edwards, Bob Wehling, Borden Deal, Brice Mack, Bruce Franklin Singer, Bruce Jay Friedman, Burt Styler, Casey Robinson, Catherine Turney, Cecil Day-Lewis, Charles Major, Charlie Downs, Chris Carter, Christopher Knopf, Clifford B. Hicks, Clyde Geronimi, Conrad Richter, Cyril Hume, D.S. Halacy Jr., Daniel Butler, David Detiege, David Irving, David P. Harmon, David Swift, David Victor, Dee Caruso, Dick Huemer, Dick Kinney, Don DaGradi, Don Nelson, Don Roos, Don Tait, Dwight Hauser, Dwight V. Babcock, Earl Felton, Ed Jurist, Ed Spielman, Elayne Boosler, Eldon Dedini, Eleanor Atkinson, Eleanor H. Porter, Eleanore Griffin, Ellis Kadison, Ellis Marcus, Erdman Penner, Eric Cleworth, Eric Freiwald, Eric Gurney, Eric Hatch, Erich Kästner, Ernest K. Gann, Ernest Thompson Seton, Esther Forbes, Felix Salten, Frank D. Gilroy, Fred Freiberger, Fred Gipson, Fritz Eckhardt, G.B. Stern, Gail Morgan Hickman, Gen LeRoy, Gerald Di Pego, Gerald Gardner, Gerry Day, Glen MacDonough, Gordon Gordon, Hal Kanter, Hamilton Luske, Hardie Gramatky, Harlan Ware, Harold Swanton, Harry E. Webb, Harry Reeves, Harry Spalding, Heinz Haber, Helen Aberson, Helen Levitt, Herman Groves, Hildy Parks, Homer Brightman, Hugh Benson, Ian Niall, Jack Couffer, Jack Hannah, Jack Kinney, Jack M. Bickham, Jack Speirs, Jack Whittingham, James Aldridge, James Algar, James Douglass West, James Mangold, James Neilson, James Oliver Curwood, James Orr, James Otis Kaler, James Ramsey Ullman, James Street, Janet Lansburgh, Jennifer Edwards, Jerry Juhl, Jim Lawrence, Joan Scott, Joe Ansen, Joe Rinaldi, John Bradford, John Godey, John McGreevey, John Meredyth Lucas, John Tucker Battle, John W. Dunn, John Wesley Powell, John Whedon, Johnston McCulley, Joseph Hayes, Joseph L. McEveety, Joshua Brand, Jules Verne, Jymn Magon, Ken Anderson, Ken Welch, Kenneth Grahame, Kenneth Johnson, Kenneth M. Dodson, Kieth Merrill, Lance Nolley, Larry Brand, Larry Clemmons, Larry Lansburgh, Laura Bower Van Nuys, Lawrence Edward Watkin, Lee Blair, Lew Dietz, Lewis Carroll, Lewis R. Foster, Lila Garrett, Lillie Hayward, Lloyd Beebe, Lloyd L. Richardson, Lois Peyser, Louis L'Amour, Louis Pelletier, Lowell S. Hawley, MacKinlay Kantor, Marc Davis, Marguerite Henry, Mark Rosman, Mark Twain, Marrijane Hayes, Marshall Efron, Martha Coolidge, Martin Roth, Marty Sklar, Mary Blair, Mary Jane Carr, Mary Mapes Dodge, Mary Rodgers, Mary Stewart, Maurice Rapf, Maurice Tombragel, McLaren Stewart, Meindert de Jong, Mel Leven, Mel Shaw, Michael Dyne, Michael Janover, Mick Garris, Mildred Gordon, Milt Banta, Milt Schaffer, Milton Raison, Mitzie Welch, Myles Wilder, Nick Bennion, Nick George, Norman Earl Thomson, Norman Foster, Norman Tokar, Norman Wright, Otto Englander, Paul Annixter, Paul Gallico, Paul Gerard Smith, Paul Haggis, Paul Savage, Paul West, Perce Pearce, Peter S. Fischer, Philip Stong, Ralph Moody, Ralph Wright, Rex Allen, Rex Cox, Richard Harding Davis, Richard M. Bluel, Richard Peck, Richard Wormser, Rick Mittleman, Riley Thomson, Robert A. Stemmle, Robert Buckner, Robert Edmond Alter, Robert Lawson, Robert Lewis Taylor, Robert Louis Stevenson, Robert Malcolm Young, Robert Schaefer, Robert Sonntag, Robert Stevenson, Robert Westerby, Robert William Murphy, Robin Swicord, Rod Peterson, Ronald Alexander, Rosemary Anne Sisson, Roswell Rogers, Roy Edward Disney, Roy Williams, Royce D. Applegate, Russell Thorndike, Samuel W. Taylor, Sandy Glass, Saul Ilson, Sheila Burnford, Sheldon Keller, Sheldon Stark, Sinclair Lewis, Stan Hart, Sterling North, Steve Hayes, Steve Kreinberg, Steve Slavkin, Steven Baum, Steven Hilliard Stern, Stewart Edward White, Stewart Raffill, Stu Billett, Susan F. Walker, Sy Gomberg, T. Hee, T.E.B. Clarke, Ted Berman, Ted Key, Ted Sears, Ted Willis, Thomas W. Blackburn, Tom Adair, Tom Koch, Upton Sinclair, Vernon Harris, Walter D. Edmonds, Walter Scott, Ward Kimball, Washington Irving, William Blinn, William Bosche, William Cottrell, William Fairchild, William Raynor, William Reid, William Tunberg, Winston Hibler, Xavier Atencio, Zachary Ball
Hint: you can examine a particular season more clearly on the graphs if you disable the trendline and all other seasons (via clicking on their labels).
Episodes average rating
Note: season labels indicates the average rating per episode between the parentheses.
Episodes total votes
Note: season labels indicates the average votes per episode between the parentheses.
History (tracking since March 7, 2020)
Note: amount of total votes may decrease due to periodic removal of fraudulent ones.
Related TV shows