Studio One ratings (TV show, 1948-1958)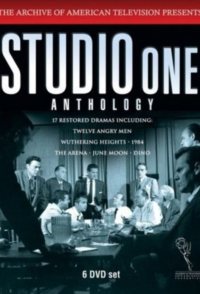 Rank
10,649

/ 25,588

Trend
3
Genres
Drama
Seasons
10
Episodes
121
Total votes
3,440
Average votes
28
Average rating
6.5

/ 10
A pinnacle of the Golden Age of Television, "Studio One" presented a wide range of memorable dramas and received eighteen Emmy nominations and five wins during its prestigious nine-year run on CBS. Showcasing some of the greatest talents of the era, this groundbreaking series created an enormous impact, and still remains a treasured part of America's broadcasting history. Embracing the work of some of television's most iconic writers, directors, actors, and technical artists, the Studio One Anthology featured the complete 1954 original television production of "12 Angry Men" and is highlighted by early performances by Charlton Heston, Art Carney, Jack Lemmon, and Leslie Nielsen, as well as teleplays written by Rod Serling and Gore Vidal.
Directors: Alan Cooke, Alan Schneider, Allen Reisner, Andrew McCullough, Arthur Penn, Buzz Kulik, Carl Frank, Daniel Petrie, David Greene, David Lowell Rich, Don Taylor, Fielder Cook, Fletcher Markle, Franklin J. Schaffner, Herbert Hirschman, Jack Gage, Jack Smight, James B. Clark, James Sheldon, John Frankenheimer, John Peyser, Karl Genus, Lamont Johnson, Lela Swift, Martin Magner, Matt Harlib, Mel Ferber, Norman Abbott, Norman Felton, Paul Nickell, Paul Stanley, Ralph Nelson, Robert Mulligan, Robert Stevens, Ron Winston, Russell Stoneham, Seymour Robbie, Sidney Lumet, Ted Post, Tom Donovan, Tony Barr, Vincent J. Donehue, Walter Hart, Worthington Miner, Yul Brynner
Writers: A.J. Russell, Abby Mann, Aben Kandel, Adrian Spies, Agatha Christie, Agnes Nixon, AJ Carothers, Alexandre Dumas, Alf Harris, Alfred Brenner, Alfred Lewis Levitt, Allen Boretz, Alvin Sapinsley, Andrew Allan, Anthony Spinner, Antony Ferry, Arnold Schulman, Arthur Hailey, Arthur Mayse, Audrey Roos, Bela Fabian, Bella Spewack, Ben Hecht, Ben Starr, Benn W. Levy, Booth Tarkington, Brainerd Duffield, Brian Oswald Donn-Byrne, C.K. Munro, Carey Wilber, Carl Bixby, Charles Larson, Charles O'Neil, Charles Terrot, Charlotte Armstrong, Charlotte Brontë, Christopher Isherwood, Conrad Aiken, Curt Siodmak, Cy Howard, Dale Wasserman, Dashiell Hammett, David Davidson, David Goodis, David Karp, David Opatoshu, David P. Harmon, David Shaw, David Swift, Day Keene, Devery Freeman, Don Ettlinger, Don Mankiewicz, Donald Davis, Doris Frankel, Dorothy L. Sayers, Douglas Fairbairn, Edward Mabley, Eileen Chang, Elihu Winer, Elizabeth Janeway, Elizabeth Taylor, Ellen Glasgow, Ellis St. Joseph, Elmer Davis, Emily Brontë, Eric Linklater, Ernest Kinoy, Ernest Pascal, Faith Baldwin, Ferenc Molnár, Fielder Cook, Fletcher Markle, Frank D. Gilroy, Frank M. Robinson, Frank Owen, Fred Gipson, Friedrich Dürrenmatt, Gaito Gazdanov, George Axelrod, George Bellak, George Kelly, George L. Du Maurier, George M. Cohan, George Malcolm-Smith, George Orwell, George S. Kaufman, George Sessions Perry, Georges Simenon, Gerald Savory, Gian Carlo Menotti, Gore Vidal, Graham Greene, Guy Gilpatric, H.R. Hays, Hamilton Basso, Harley Granville-Barker, Harold Jack Bloom, Harry W. Junkin, Harvey Miller, Hedda Rosten, Henry James, Henry Kane, Henry Misrock, Herman Goldberg, Herman Raucher, Horton Foote, Howard Merrill, Howard Rodman, Howard Swigett, Hugo Csergo, Irve Tunick, Irving Elman, Irving Gaynor Neiman, Irwin Shaw, Ivan Turgenev, J.B. Priestley, J.C. Squire, Jackie Gleason, James Atlee Phillips, James Costigan, James Hadley Chase, James P. Cavanagh, James Warwick, James Yaffe, Jan Valtin, Jerome Gruskin, Jerome Ross, Jerry Davis, Jerry McNeely, Joe Masteroff, Joel Hammil, John D. MacDonald, John D. Weaver, John Dickson Carr, John Drinkwater, John Galsworthy, John Hawkins, John L. Balderston, John McGreevey, John McNulty, John P. Marquand, John Steinbeck, John Van Druten, John Vlahos, Joseph Landon, Joseph Liss, Joseph Schrank, Joyce Cary, Judson Philips, Karen Blixen, Kathleen Lindsey, Kenneth Fearing, Kressmann Taylor, Laurence Marks, Leo Brady, Leo Penn, Leslie Stevens, Lev Tolstoy, Lillian Day, Loring Mandel, Lou Meltzer, Louis Verneuil, Louisa May Alcott, Lowell Barrington, Luigi Pirandello, MacKinlay Kantor, Madeline Misrock, Mann Rubin, Marc Brandel, Marc Connelly, Marcy Klauber, Margaret Storm Jameson, Marie Belloc Lowndes, Mark Twain, Mary Orr, Matt Harlib, Maurice Valency, Max Ehrlich, May Sarton, Mayo Simon, McNight Malmar, McNight Malmar, Mel Goldberg, Michael Dyne, Mildred Cram, Millen Brand, Monica Dickens, Morton Grant, Nathaniel Benchley, Nathaniel Hawthorne, Nelia Gardner White, Nelson Bond, Norman Katkov, Norman Lessing, P.L. Travers, Palmer Thompson, Pamela Frankau, Pat Frank, Patricia Collinge, Patricia Highsmith, Patrick Alexander, Paul Crabtree, Paul Gallico, Paul Horgan, Paul Monash, Paul Somers, Paul Vincent Carroll, Peggy Phillips, Peter Shaffer, Peter Stone, Peter Viertel, Philip Barry, Philip H. Reisman Jr., Quentin Reynolds, Raphael Hayes, Raymond Chandler, Reginald Denham, Reginald Lawrence, Reginald Rose, Richard Berg, Richard De Roy, Richard Fielder, Richard Mealand, Richard P. McDonagh, Richard Stern, Ring Lardner, Rita Weiman, Robert Alan Aurthur, Robert Anderson, Robert Bassing, Robert Carson, Robert Dozier, Robert Herridge, Robert Howard Lindsay, Robert Louis Stevenson, Robert Presnell Jr., Robert Presnell Sr., Robert Wallsten, Robin Estridge, Rod Coneybeare, Rod Serling, Rodolfo Usigli, Roger O. Hirson, Romeo Muller, Rudyard Kipling, Rumer Godden, Ruth McKenney, S. Ansky, S. Lee Pogostin, S. Lee Pogostin, Sam Hall, Sam Locke, Sam Spewack, Samuel Grafton, Samuel R. Golding, Sherman Yellen, Sid Dorfman, Sidney Carroll, Stanley G. Weinbaum, Stanley Niss, Stefan Zweig, Sumner Locke Elliott, Tad Mosel, Taylor Caldwell, Theodore Apstein, Theodore Bawer, Thomas Phipps, Thomas Sugrue, Thomas Walsh, Val Gielgud, Van Siller, Vincent McConnor, Viola Brothers Shore, W. Somerset Maugham, W.R. Burnett, Walter Hart, Walter Van Tilburg Clark, Ward Hawkins, Whitfield Cook, William Altman, William Dozier, William J. Lederer, William Jerome Fay, William Krasner, William O. Douglas, William P. McGivern, William Shakespeare, William Templeton, Worthington Miner, Wyllis Cooper
Hint: you can examine a particular season more clearly on the graphs if you disable the trendline and all other seasons (via clicking on their labels).
Episodes average rating
Note: season labels indicates the average rating per episode between the parentheses.
Episodes total votes
Note: season labels indicates the average votes per episode between the parentheses.
History (tracking since March 7, 2020)
Note: amount of total votes may decrease due to periodic removal of fraudulent ones.
Related TV shows